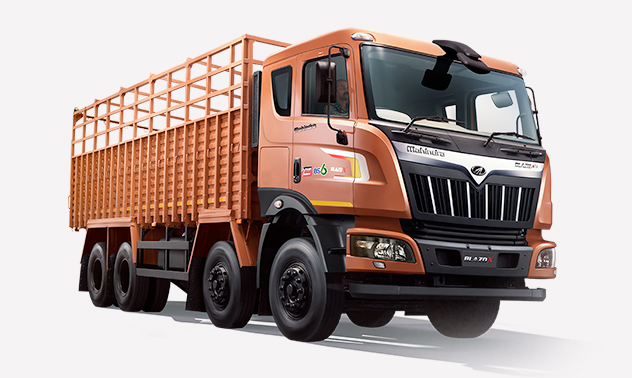 In the world of commercial vehicles, Mahindra has been a name synonymous with reliability, innovation, and cutting-edge technology. One of their latest offerings, the Mahindra Blazo X 35 BS6, is a testament to their commitment to providing businesses with vehicles that not only meet but exceed their expectations. In this article, we will delve into the specifications and minute details of the Mahindra Blazo X 35 BS6, a truck that's redefining the standards of efficiency and performance in the Indian commercial vehicle market.
Engine and Performance of Mahindra Blazo X 35 BS6
At the heart of the Mahindra Blazo X 35 BS6 is a powerful and fuel-efficient m-POWER 7.2-litre, 6-cylinder engine. This engine is designed to comply with the latest BS6 emission norms, ensuring that your business not only runs efficiently but also in an environmentally friendly manner.
The Mahindra Blazo X 35 BS6 generates a formidable 276 bhp of power and an impressive 1050 Nm of torque. This means that even under heavy loads and challenging terrains, the Blazo X 35 BS6 delivers exceptional performance. The engine is mated to a 6-speed manual transmission, which ensures smooth gear shifts and precise control over the vehicle.
Design and Aerodynamics
Mahindra understands the importance of aerodynamics in achieving fuel efficiency. The Mahindra Blazo X 35 BS6 has been meticulously designed with this in mind. The truck features a sleek and aerodynamic cabin that not only reduces wind resistance but also enhances the overall aesthetics of the vehicle.
The front fascia of the Blazo X 35 BS6 boasts a bold grille with chrome accents, giving it a distinctive and commanding presence on the road. The design not only looks impressive but also contributes to better airflow, ultimately improving fuel efficiency.
Comfort and Safety
The Blazo X 35 BS6 has been designed with the comfort and safety of the driver in mind. The spacious and ergonomically designed cabin provides a comfortable working environment for long hours on the road. The driver's seat is adjustable, allowing drivers to find their optimal driving position.
Safety is a top priority for Mahindra, and the Blazo X 35 BS6 comes equipped with features such as ABS (Anti-lock Braking System), EBD (Electronic Brakeforce Distribution), and a robust chassis construction. These safety features provide peace of mind for both drivers and fleet owners.
Payload and Capacity
When it comes to commercial vehicles, payload capacity is a critical factor. The Mahindra Blazo X 35 BS6 offers an impressive payload capacity of up to 35 tonnes, making it suitable for a wide range of applications, from long-haul transportation to heavy cargo delivery.
The truck is available in various configurations, including different wheelbase options, to cater to the diverse needs of businesses. Whether you need a truck for transporting goods over long distances or for carrying heavy loads within the city, the Blazo X 35 BS6 has you covered.
Fuel Efficiency
In the world of commercial vehicles, fuel efficiency is paramount. The Mahindra Blazo X 35 BS6 is designed to be one of the most fuel-efficient trucks in its class. The advanced engine technology, coupled with Mahindra's intelligent FuelSmart technology, ensures that the Blazo X 35 BS6 optimizes fuel consumption.
FuelSmart technology includes features like Fuel Coaching, which provides real-time feedback to the driver to help them achieve the best possible fuel efficiency. Additionally, the Blazo X 35 BS6 offers multiple driving modes, including Turbo and Heavy modes, allowing drivers to choose the mode that best suits the load and road conditions, further enhancing fuel efficiency.
Maintenance and Serviceability
Reducing downtime and minimizing maintenance costs are crucial for businesses that rely on their commercial vehicles. Mahindra understands this, and the Blazo X 35 BS6 is designed for easy maintenance and serviceability. The truck comes with a comprehensive service network and a dedicated team of technicians who are trained to handle any issues efficiently.
Technology and Connectivity
The Mahindra Blazo X 35 BS6 is not just a powerful and efficient workhorse; it's also a smart and connected vehicle. It comes equipped with Mahindra's DiGiSENSE technology, which provides real-time data on vehicle health, location, and performance. Fleet owners can monitor their vehicles remotely and make data-driven decisions to optimize operations.